AUTOCOMPLETE
The autocomplete will serve us so that when arriving to certain minute, instead of beginning a song, put us a file determined for us, so that the song doesn't intersect when arriving to that minute.
For ejemplo:  to the 10:00 hrs we have a program that it will begin, to the 09:58 hrs, it finishes the song that the wit is reproducing, then as alone they are 2 minutes for the 10:00 and the following hard song more than 2 minutes, the autocomplete will put a file to stuff up to 10:00 o'clock.
The autocomplete, is programmed in the sheduling, for hours and days, and in any moment we can to choose the file that uses to complete, of there the quantity of possibilities that he/she offers us.
FILES AUTOCOMPLETE
A file autocomplete, it can be a song, jingle, assembly of different songs, something that nosostros wants that be the filler.
That file will should to give it of high in HIGH, as SEVERAL
We can give of high, all the files that we need
<![if !vml]>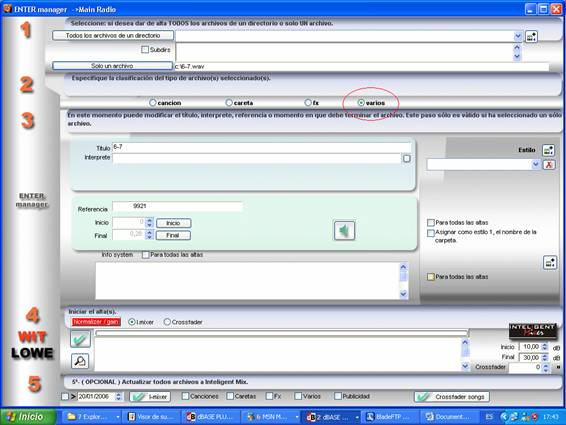 <![endif]>
AUTOCOMPLETE IN THE SHEDULING
We go now to the sheduling, to program in that day and hours and that minutes it owes autocompletar, for each block of the sheduling, we have the possibility of putting two different minutes.
<![if !vml]>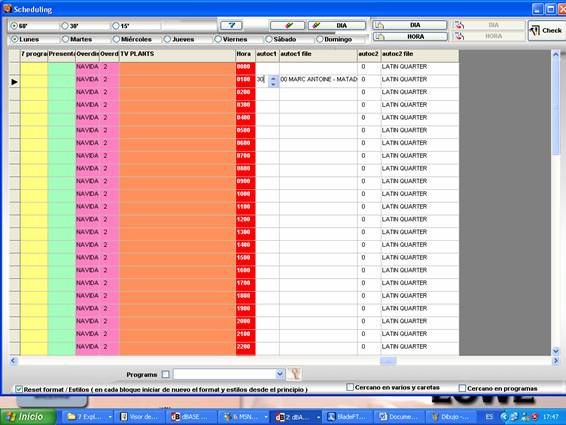 <![endif]>
Those columns dedicated to the autocomplete, are autoc1, autoc1 file, autoc2, autoc2 file
For example as we see in the figure, in the block of 0100 at 0200 want the following,
That complete the minute 00 and the minute 30, so that the signs horarias don't cut the song.
Then in autoc1 has put the minutes and in autoc1 file, the file of several that we want.
EX:                          autoc1                                            autoc1 file
<![if !supportLists]>30                                                                                            <![endif]>Marc Anthony
                                 Autoc2                                            autoc2 file
<![if !supportLists]>00                                                                                             <![endif]>Latin quarter
A detail to keep in mind it is that the minute 00 refer to the following block, because this he/she goes of 0100 o'clock to 0200, that means that autocompletaria for example to the 01:58, NOT at the 00:58 that it would correspond to configure it in the previous block.
MARGIN OF SECURITY
The safe-deposit magen is a quantity of minutes previous to the minutes that it is necessary to complete so that the autocomplete is activated.
For example at 00 we have autocomplete
Margin of safety has: 3
They are and 58, the autocomplete is shot
They are and 56, the following song begins although he/she spends of the 00
Margin of safety has: 10
They are and 58, the autocomplete is shot
They are and 56, the autocomplete is shot
The margin it is configured in wit.configuracion general.sheduling
<![if !vml]>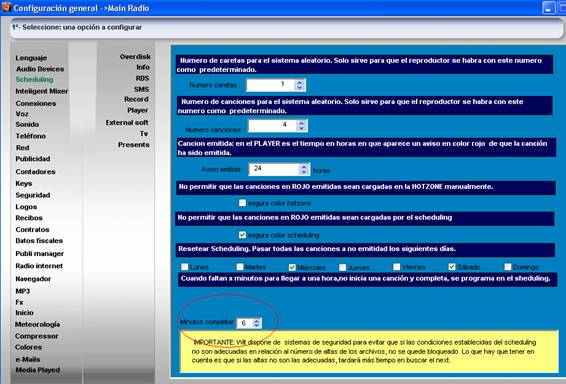 <![endif]>