TO CONFIGURE DTMF WITH 2 TONES, RECEIPT AND DISCURSEMENT
WE OWE COFIGURAR THE IT LINES OF ENTRANCE
We go to wit.configuración.general.conexiones
In IDSAT 1, we choose it lines her of the sound card , for the one that the audio one enters, for example it "Lines of entrance" and we pulse the seen of the right.
<![if !vml]>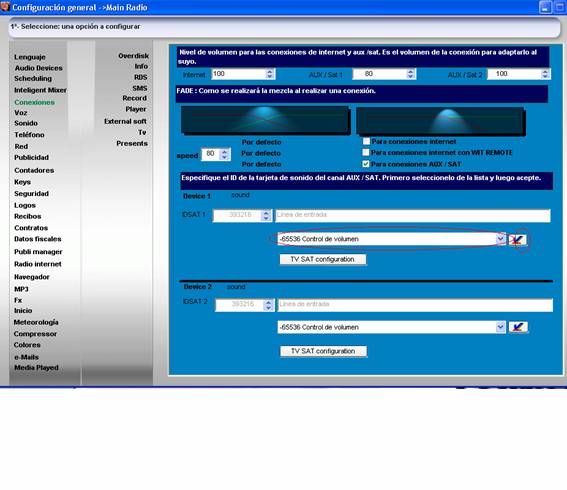 <![endif]>
In this same one screen, we can adjust the volume of the satellite and the mixture form of the one audio, cutting or fusing.
TO CONFIGURE CONNECTION
We go to wit.conexiones.servervidores. and
We give to the + for to create a servant
In name we write for example "SATELLITE"
We mark the stall Line in/AUX Satellite 1
We mark the stall DTMF remote
And we give him again to + to keep the changes
<![if !vml]>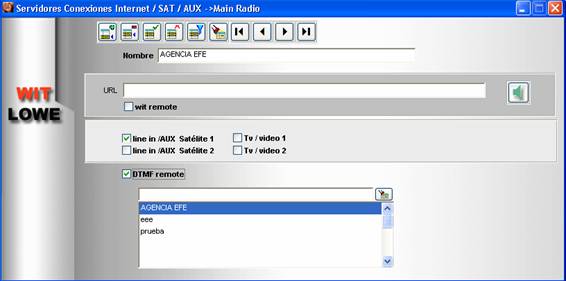 <![endif]>
TO CONFIGURE TONES
We go to wit.conexiones.dtmf
If for example the disconnect tone is 6,9  and that of disconnect is 4, 8
This is the configuration,
We mark the stall DTMF end, and in the third tone that there is not, we put -1
<![if !vml]>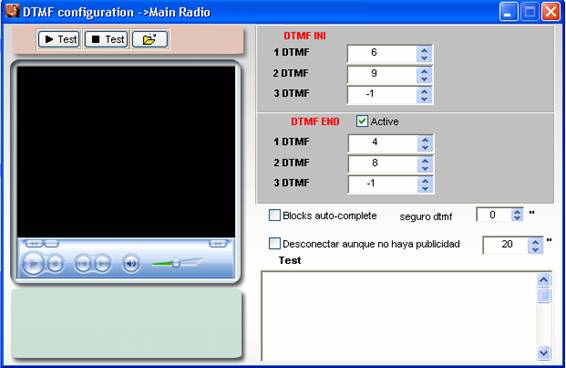 <![endif]>
TO PROGRAM THOSE CONNECTIONS AUTOMATICALLY
In wit.conexiones.mantenimiento
They are programmed in a weekly way.
We choose the connection, and we put the beginning and final.
<![if !vml]>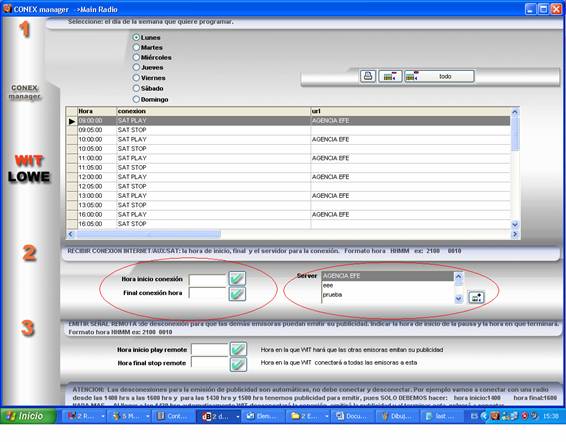 <![endif]>
TO ACTIVATE CONNECTIONS OF IT FORMS MANUAL
We make it from the pleasure, from the spider cloth, here we can begin or to finish a connection.
<![if !vml]>
<![endif]>
In the player
To the one to be activated the connection in the pleasure the option DTMF will be activated that appears to the one side of publicity, automatically.
The pleasure it should be in PLAY and with the option activated DTMF.
<![if !vml]>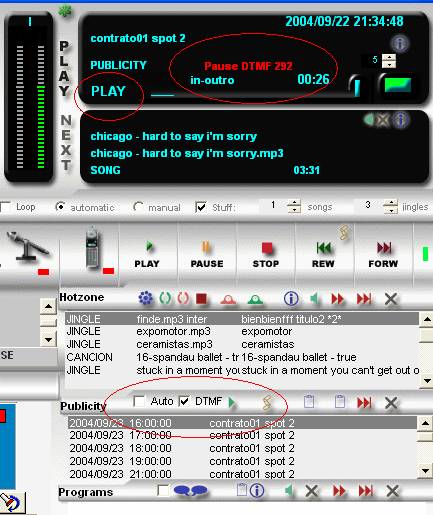 <![endif]>